RSK-met 50 Series: Solar Monitoring Station
Overview
The RSK-met 50 Series is an automated Solar Monitoring Station & data acquisition system specifically designed for solar monitoring applications. The standard package is designed to meet client standard requirement. Systems are easily customized with accessories for every aspect of the station, from communications to mounting options.
Typical applications include pre-construction phase solar resource assessment, baseline data collection, and performance monitoring. RSK-PVmet 50 Series simplifies the process of collecting system data by acting as the single point data gateway for environmental, Renewable Energy, inverter, and energy meter data.
Measurements
Most of the systems we sell are customized. These systems, however, typically measure the following parameters:
Air temperature
Relative Humidity
Solar radiation—global horizontal (GH)
Solar radiation—plane of array (POA)
Surface temperature—back of panel
Wind direction
Wind speed
Precipitation
Barometric pressure
Typical Configuration
RS Consultancy Control Datalogger
Enable a Modbus TCP/IP device to interface with IEC 61850 SCADA system simultaneously. SCADA Connectivity via Modbus (GSM/GPRS options available)
Uninterruptible Power Supply (solar panels available)
Robust Instrumentation Tower and Mounting Hardware
Ultrasonic Heated Wind Speed / Direction Sensor
Air Temperature Sensor
Relative Humidity Sensor
Barometric Pressure Sensor
Total Global Plane of Array Irradiation Sensor
(one per collector plane)
Total Global Horizontal Irradiation Sensor
Precipitation Sensor
Back of Module Temperature Sensor
Diffuse Radiation Sensor (Optional)
Pyrgeometer Sensor (Optional)
Pyrheliometers (Optional)
Soiling (Optional)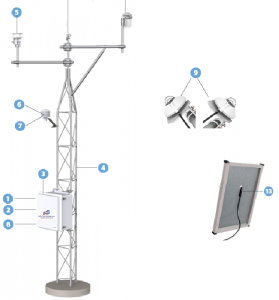 Benefits and Features
RS Consultancy Measurement Control Datalogger
Easy integration, easy maintenance, and wide input voltage range
Embedded hardware designed for harsh substation environment.
Real time process data monitoring and controlling for all devices and protocols
File Upload / Download support, remote configuration
Includes sealed circular connectors on the outside of the enclosure, simplifying sensor hookup
Reduces installation time by using a prewired/preprogrammed integrated design
Provides a battery back system that allows data collection during power outages and network failure
Other optional Protocol Includes: IEC104, IEC101, OPC-UA/DA, MODBUS, DLMS ETC.
Modular design promotes customization
Acts as single point data gateway for environmental, renewable energy ,inverter, and energy meter data
Different Hardware Model selection as per the system and solution need.
Data Logger Option 1
5 Analogue Input Channel
4 Counter Input Channel
Modbus Output
MQTT
GPRS
Single Line Display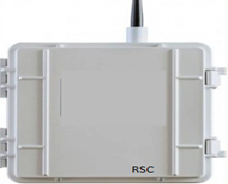 Data Logger Option 2
8 Analogue Input Channel
4 Counter Input Channel
Modbus Output TCP/IP
Communicate with Other Third Party Protocol like IEC104 , IEC101,IEC61850 for SCADA system.
Gateway with OPC UA
APPLICATIONS
Renewable Energy Monitoring
Solar Meteorological Station
Wireless Weather Monitoring Station
Remote Sensing
Automatic Water Level Monitoring
Industrial Automation
Industrial Monitoring
Process Monitoring